Pokemon Flora Sky is a hacked version of Pokemon Emerald so you can use Pokemon Emerald Gameshark Codes or Action Replay Codes or CodeBreaker Codes for Pokemon Flora Sky. Pokemon Flora Sky Cheats help you to reduce your time playing this game and unlock all hard achievements.
NOTE: Not recommended to use. You should play the game without codes.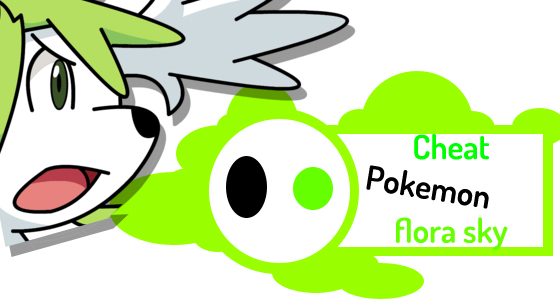 Pokemon Flora Sky Cheats
To know how to use codes, you should follow these steps:
1. Open your VBA Emulator and load the game ROM.
2. Save your game by using Save State.
3. Cheats > Cheat List > GameShark… > Insert your codes.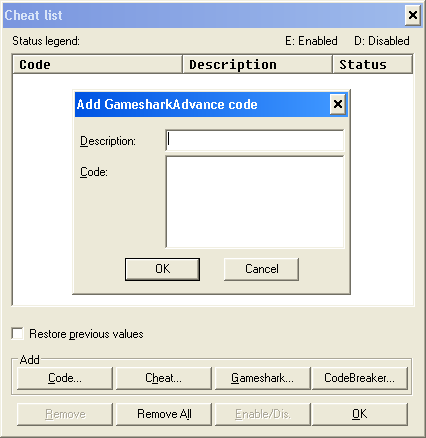 4. Good luck and have fun.
Continue to get your cheat codes.
Pokemon Flora Sky Gameshark Codes
Working/Checked Gameshark Codes
Infinite Rare Candies
Access to your PC and Withdraws Items. When you withdraw 1 Rare Candy, the other ones will be appear.
BFF956FA 2F9EC50D
Walk Through Walls
7881A409 E2026E0C
8E883EFF 92E9660D
Infinite Money
You will get a lot of money when you sell items in Mart.
83005E18 270F
or
C051CCF6 975EDA1
Infinite Master Balls
You have to buy one by one.
82005274 0001
or
128898B6 EDA43037
Infinite PP
ED59169F CEB6
79BA7465 DC00
Other Gameshark Codes
Please insert Master Code or Must Be On code first to ensure other codes working.
1. Catch Shinny Pokemon without Master Code:
77BFC010 FE8DCA24
B2C5E8F4 074034FB
9C1FE7D6 B07AE5A0
63149984 A8C01E2C
2. Walkthrough Wall
7881A409 E2026E0C
C56CFACA DC167904
3. Master Code (enter first)
9266FA6C97BD
905B5ED35F81
B76A68E5FAB1
4. Skip Intro
B05557898BBD
F95340E4DFFD
B02FC0E07138
8027CBC08B39
5. Change PLYR Name (Note 1)
49B17DAD4E7F
79C3E2C494FE
7AD8B975DCC0
C04F4AC847FF
70D363C080BF
7AC1B975F6C1
6. No Random Battles
32C96211F488
7. Always Your Turn
3DC737D7E4BC
3BC67645EE81
D43989B35E7F
9444C92364DE
8. Easy Win (Trainer)
D2201D237C06
DD3B48F5DE3F
9. Easy Win (Doubles)
BD2754F5E43E
DD3B48F5DE3F
10. Quick Contest
59BEE865C65F
50BF29F1C81E
11. Maximum Score
A62154B3792C
AF2395FE3960
12. Maximum Hearts
A62154B3792C
2FB8E027164F
13. Max Coins from Pokies
30DAA34BC79B
1FB97F954367
14. Receive BP [Hold Select]
10C6FC61E2C9
F64140A276A5
10C6FC61E2C9
8F5DDCA742ED
10C6FC61E2C9
79D9F5A5D6FF
15. Free Daycare
1DA9FE177458
16. Free MOD Shop Items
5FC4BF056CCE
19D62B474498
79BA7465DC00
DF1A8A45648B
E961C39FC433
17. Access MOD Shop [L+A+Sel]
AE44960E2DD6
99468975ECD8
AE44960E2DD6
FF62825EBC40
AE44960E2DD6
805C1D31C295
30BA206B961F
79C4A3076CDE
79BA7465DC00
18. Access Deco Shop [L+A+Sel]
AE44960E2DD6
99468975ECD8
AE44960E2DD6
FF40813676C1
AE44960E2DD6
895C9D35C6D5
30B821239C1E
79C4A3076CDE
79BA7465DC00
19. Maximum Sale Price
309FE3C020BF
06FDFF8AB123
20. Infinite Safari Time
7487A17AED58
21. Infinite Safari Balls
841ADCEB5C76
22. Safari Pokemon Easily Caught
CD70DD2CEB13
7BEBB6D60A2D
23. Wild Pokemon Easily Caught
C2711CBA6F6B
72EA77420E4D
24. Gain 5000 Exp (Note 2)
A744170AA996
9B540825258E
25. Infinite PP
ED59169FCEB6
79BA7465DC00
Pokemon #1: Max Stats
02DF7FD900A0
70BBB5F1DC40
Pokemon #2: Max Stats
6BB9F5BD1A61
70BBB5F1DC40
Pokemon #3: Max Stats
825D1E9B8AA7
70BBB5F1DC40
Pokemon #4: Max Stats
EB5B96DF90E6
70BBB5F1DC40
Pokemon #5: Max Stats
02A728FBA020
70BBB5F1DC40
Pokemon #6: Max Stats
6BC1E39FBAE1
70BBB5F1DC40
26. Access PC [B+Sel]
A845D79C2DEE
7FB163863763
A845D79C2DEE
805D5CA1C2B5
27. Access Secret Power
B03554A1683D
F9289715165C
28. Access Fly Map [A+Sel]
AE44960EADD6
70C560A026F8
AE44960EADD6
70A4A310E655
29. Fly Anywhere on Map
49C6BF4EE2DB
D9449F0766D1
30. Berry Blender Codes:
Max Direct Hits
DF5CCB074CC8
0FB9FF9F9267
No Misses
DF5CCB074CC8
F95E9565CCD8
Quick Blend
DF5CCB074CC8
69C6E16D2DDE
Maximum Feel
DF5CCB074CC8
893BDEDC9970
Max Level Gold (Cool)
DF5CCB074CC8
C6461F4A29A0
Max Level Gold (Beauty)
DF5CCB074CC8
C0475ED8A9B0
Max Level Gold (Cute)
DF5CCB074CC8
C0461F48A9B0
Max Level Gold (Smart)
DF5CCB074CC8
CF47DEDE29E0
Max Level Gold (Tough)
DF5CCB074CC8
CF469F4E29E0
31. Purchase Items: (Note 8 )
All Mail
5FC4BF056CCE
E04742DA67B9
70BBB571DD48
All Pokeballs
5FC4BF056CCE
10D97E935CBE
70BBB571DD48
All Misc Items (Part 1)
B97754ECD579
D02A0978FF19
5FC4BF056CCE
16E8BE01460A
5FC4BF056CCE
9959DE9759F8
963EDCE34D5E
5FC4BF056CCE
0FBBFCF65367
992648E5ED0E
5FC4BF056CCE
E026C062165F
79D83175DC80
5FC4BF056CCE
E026C163165F
39C47C65EC80
All Misc Items (Part 2)
5FC4BF056CCE
805009232699
5FC4BF056CCE
66BEB4699203
9026C860EC4E
5FC4BF056CCE
E63E94699205
9026C860EC4E
5FC4BF056CCE
1FD8BF055CCE
9026C860EC4E
5FC4BF056CCE
9F589F055CC8
9026C860EC4E
All TM's/HM's (Part 1)
B97754ECD579
A62C01326500
5FC4BF056CCE
16E8BE01460A
5FC4BF056CCE
60DD77934CBE
1FA729776D18
5FC4BF056CCE
902088292C1C
79C074677C90
5FC4BF056CCE
80281C218C18
39C47C65EC80
All TM's/HM's (Part 2)
5FC4BF056CCE
80589C22869D
5FC4BF056CCE
66BEB4699203
F03B95F0DC4E
5FC4BF056CCE
E63E94699205
F03B95F0DC4E
5FC4BF056CCE
1FD8BF055CCE
F03B95F0DC4E
5FC4BF056CCE
9F589F055CC8
F03B95F0DC4E
All Berries (Part 1)
B97754ECD579
A63554A34520
5FC4BF056CCE
16E8BE01460A
5FC4BF056CCE
19B9FCB7187E
1FBE7CE74D18
5FC4BF056CCE
902088296C1C
79A074477C10
5FC4BF056CCE
80481E018C98
39C47C65EC80
All Berries (Part 2)
5FC4BF056CCE
80389E02C61D
5FC4BF056CCE
66BEB4699203
76BAF4625C58
5FC4BF056CCE
E63E94699205
70BBB5F0DC48
5FC4BF056CCE
1FD8BF055CCE
76BAF4625C58
5FC4BF056CCE
9F589F055CC8
70BBB5F0DC48
All Hold Items (Part 1)
B97754ECD579
AF35D4A74160
5FC4BF056CCE
16E8BE01460A
5FC4BF056CCE
66A560B0AC26
16BEFCE34D58
5FC4BF056CCE
E0268068761D
79BA70475611
5FC4BF056CCE
E0540201BC98
39C47C65EC80
All Hold Items (Part 2)
5FC4BF056CCE
80228A4BEC1C
5FC4BF056CCE
66BEB4699203
19BF3DF4CC08
5FC4BF056CCE
E63E94699205
19BE7C64CC08
5FC4BF056CCE
1FD8BF055CCE
19BF3DF4CC08
5FC4BF056CCE
9F589F055CC8
19BE7C64CC08
All Decorations (Part 1)
B97754ECD579
90399DB1DC78
19A52935E709
B97754ECD579
70A6E06AF75D
865C5F0B03DB
B97754ECD579
09B6A97D555A
F75A5061D38F
B97754ECD579
60A460207C5A
79B831575C10
B97754ECD579
60BC7421595A
903F9DF0CC4E
All Decorations (Part 2)
B97754ECD579
E0244021795C
903EDC60CC4E
B97754ECD579
9F385C27DC08
903F9DF0CC4E
B97754ECD579
1FA06827FC0E
903EDC60CC4E
B97754ECD579
9638DC235C48
903EDC60CC4E
B97754ECD579
16A0E8237C4E
903EDC60CC4E
NOTE
Note 1: View Trainer Card.
Note 2: Press R+A whilst
EXP Gained is displayed.
Note 3: Press L+R+Dwn.
Use with Starter to
Receive code.
Note 4: Use one per load.
Use with Receive Starter.
Note 5: Press Select+A+A.
Note 6: Use with Re-Battle
Use one per load.
Note 7: Hold L whilst
entering/exiting.
Note 8: Use at MOD Shop.
Select one item only.
Note 9: Press L+R+Up.
Copies Pokemon to respective
Party Slot.